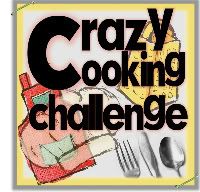 Recently, I was invited to take part in the Crazy Cooking Challenge, a group of bloggers cooking a featured recipe from another blog and voting to find the ULTIMATE recipe. The challenge for September is the Ultimate Macaroni & Cheese Recipe.
I found a super delicious macaroni and cheese recipe from one of my favorite bloggers, Liz from Hoosier Homemade. Liz's recipes are always delicious, simple, and frugal. She also makes the cutest cupcakes! I used her Baked Mac and Cheese recipe for the September Crazy Cooking Challenge. Yum!
(Print Button embedded, please visit Cajun Sugar Pie to print the recipe.)
Recipe: Baked Mac & Cheese
Ingredients
8 ounces macaroni (I used wheat pasta)
4 tablespoons butter
3 tablespoons flour
2 cups milk
1/2 teaspoon salt
dash of pepper
2 cups shredded cheese
Instructions
Prepare pasta according to package directions. While pasta is cooking, prepare cheese sauce.
In a large saucepan, melt butter.
Add flour, salt, and pepper. Whisk until well combined.
Gradually, add milk, whisking continually.
Bring to a boil and cook for 2 minutes while constantly stirring.
Reduce heat and cook about 10 minutes or until mixture thickens.
Add cheese and stir until cheese melts and sauce is smooth.
Fold in pasta.
Place in 9×13-inch pan and bake at 400° for 15-20 minutes or until golden and bubbly.
Please visit these other awesome blogs and click "Like" to vote for the Ultimate Macaroni and Cheese Recipe!
© 2011, www.cajunsugarpie.com. All rights reserved.