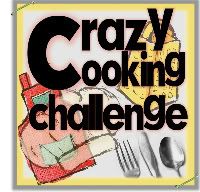 It's time again for the Crazy Cooking Challenge. This month we are looking for the Ultimate Mashed Potato recipe.
I chose these delicious Garlic Carrot Potatoes from The Purposed Heart. I have to confess that I did change one thing from the original recipe. I added shredded cheese so my daughter would think the carrots were cheese and actually eat the mashed potatoes. I know, scandalous! It worked and these turned out very good! Great way to eat more veggies!
If you are reading the email version of this post, please visit Cajun Sugar Pie to print the recipe.

Ingredients
1-1/2 pounds potatoes, peeled and diced (about 6 medium sized)
1-1/2 pounds carrots, peeled and diced (about 9 medium sized)
5-6 cloves garlic, peeled and finely minced
4 tablespoons butter
1-1/2 teaspoons sea salt, to taste
½ teaspoon pepper, to taste
1 – 2 tablespoons milk
½ cup shredded cheddar cheese
Instructions
Place potatoes, carrots, and garlic in a medium-sized saucepan and cover with plenty of water. Bring water to a boil over high heat.
Reduce heat to medium-high and cook until vegetables are tender and can be easily mashed, about 20-25 minutes.
Drain the water.
Add butter, salt, and pepper and mix well with an electric mixer or potato masher.
Add in the milk to desired consistency.
Stir in cheese just before serving (to hide the carrots from picky eaters).
http://www.cajunsugarpie.com/2011/11/crazy-challenge-potatoes.html
© 2011-2014 - Cajun Sugar Pie Press - www.CajunSugarPie.com
You can find other great mashed potato recipes below, and while you are looking, click "Like" to vote for your favorite!
© 2011, www.cajunsugarpie.com. All rights reserved.